Careers Events and Opportunities
Welcome to our careers events page, which details current opportunities available to our students:
FOR FULL DETAILS, SEE THE ROYAL AIR FORCE EVENTS LEAFLET ATTACHED AT THE BOTTOM OF THE PAGE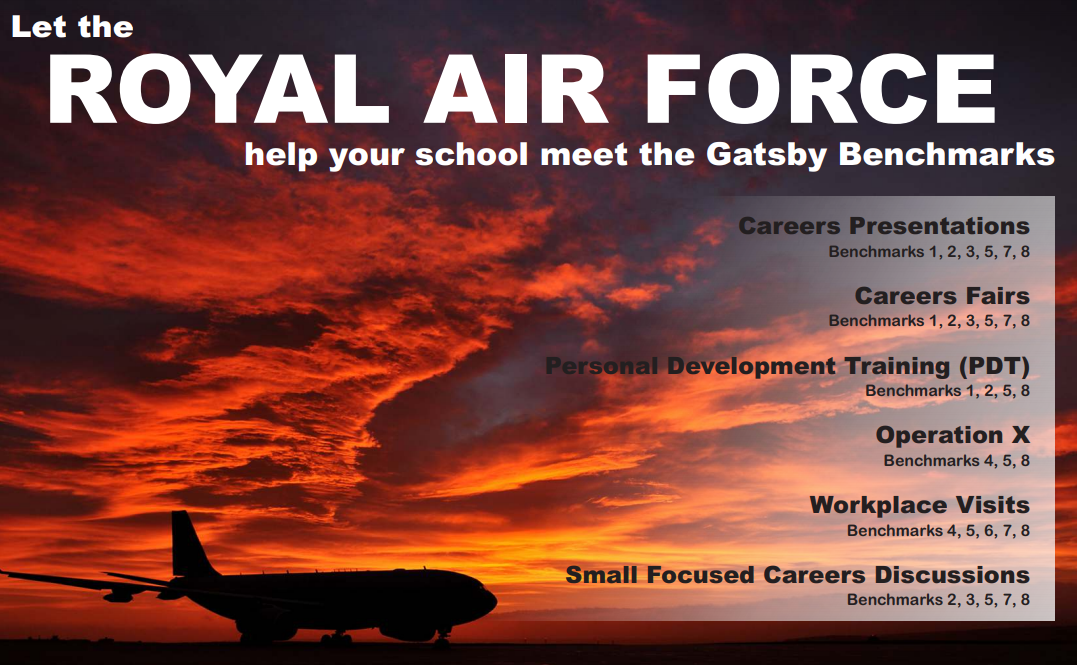 There's a huge variety of roles in the Army available to students that have an interest in medicine, biology, chemistry and physics. From a Biomedical Scientist to an Ammunition Technician, an Environmental Health Practitioner to Pharmacy Technician, could the Army be the ideal employer for your students?

In many of these roles, gaining a fully funded degree is part of the specialist training. Why not forward this on to a student who may be interested so they can find out more?
EXPLORE THE WORLD OF WORK WITH A SCIENCE CAREER IN THE ARMY
Our role-specific videos are a great way to introduce the themes of employability and the world of work into your science lessons, giving students an insight into what is involved in each role and the skills they'll need to succeed. Click below to watch our full suite of videos.
"At the moment, my role is similar to working in a private vet's practice. It's very clinical and hands on, with animals always coming in. In my next posting I'll be working in a preventative role, training dog handlers in caring for the dogs and doing first aid. It will be a different focus and tempo!"
Army Veterinary Nurse

Optical Assistant Apprenticeship – TOTNES SPECSAVERS
FULL TIME TO INCLUDE WEEKEND WORKING
At Specsavers, we're always looking to the future- which is where people like you come in.
Our Apprenticeship scheme gives people of all ages the chance to boost their existing skillset and kickstart an exciting new career as part of a forward-thinking business, all whilst earning a full-time wage.
We are currently looking for individuals who are enthusiastic about providing great customer service and would like to pursue a career in retail, management or optics. As well as being passionate and motivated in everything you do, it's important that you're also a great listener and communicator – as that's what excellent service is all about. In addition to having great communication skills, you'll also be a team player and have a real passion for making a difference, both in your development and within the business.
Who is this Apprenticeship for?
Recent school/college leavers OR those looking for a new challenge
Individuals with both GSCE Maths and English at Grade D/3 or above, or an equivalent level qualification
Individuals who have lived in the EU for 3 years or more, with the right to work in the UK
What does the role involve?
Welcoming customers into store
Booking in eye tests
Pre-screening patients
Providing style advice
Measuring frames
Taking phone calls
What will you gain?
Your on-the-job training will sit alongside structured learning that will lead to a nationally recognised qualification. At the end of your year as an apprentice, you'll be a fully-fledged Level 2 Optical Assistant. Over the course of thirteen months with us, you'll:
Earn a salary (c. £225.00 per week)
Gain valuable work experience in a full-time role
Receive comprehensive and structured training, supported by a qualified assessor
Deliver high-quality products and services in an innovative retail environment
Become part of a team working towards a common goal
Be entitled to paid holidays
On top of everything we have to offer our apprentices, we're just as happy to learn from you too! In this role, a head full of ideas will certainly come in handy and could make a real difference to how we do things right across the business. With us, you'll always have the opportunity to make a difference. Even though we're a relatively large company, the entrepreneurial spirit that got us off the ground is still at the heart of everything we do.
Ready to kickstart your career with a company that will support you to be the best you can be? For more detailed information about the Specsavers Apprenticeship programme, please click the link below.
https://join.specsavers.com/uk/explore-careers/apprenticeships-and-future-talent-at-specsavers/apprenticeships-at-specsavers/
It's essential that you haven't previously worked in the Optical Sector. Before applying, please check that you are able to travel to the store location on a daily basis. If you have any questions, please speak to a member of the Recruitment Administration & Support Service Team on 01566 771 888.
COURSES TO SUPPORT YOUNG PEOPLE WITH SEND:
CDI Certificate-Courses to support Young People with SEND

The CDI is delighted to offer two new courses for those providing career support to SEND young people in schools, special schools, colleges and related education settings.

Career support in this context aims to help student progression and manage transitions to purposeful destinations or pathways which may result in paid employment, an improvement in independent life skills, and/or a life that is enriched by other opportunities including social, community and leisure.

The courses are available using remote learning with face-to-face online training with an experienced SEND professional. The CDI are planning to offer face-to-face training from September 2021.

Please refer to the attachment for more details.
APPRENTICESHIPS:
Google Apprenticeships
Google is promoting three UK apprenticeship programmes:

Digital Marketing Level 3 Apprenticeship
Apprentices will join a Sales or Marketing team at Google, and help define, design, and implement campaigns across a variety of platforms, gaining exposure to different Google products, and leveraging the power of Google data to help companies to solve their business challenges.

Infrastructure Technology Level 3 Apprenticeship
IT apprentices at Google gain exposure to roles such as IT Support and AV Engineering. You'll have the chance to pick up new skills, from troubleshooting across multiple platforms, data gathering and analysis, remote infrastructure, IT security and more, while learning how to apply your knowledge to solve real life problems.

Software Development Level 4 Apprenticeship
This programme aims to provide the skills you need to become a software development professional. You'll work alongside teams of Googlers, solving real problems and gaining exposure to different roles across the company, including coding, development, testing and project management.

Apply before 1st April via the website below, and feel free to visit the Student Blog featuring a former Digital Marketing Apprentice.
We are recruiting for our next generation of Degree Apprentices and wanted to share with you a brochure that highlights the great opportunities we have on offer. Please feel free to onward share this to any students that you feel may be interested, they may also wish to check out our Early Careers opportunities on our website…
https://www.morrisons.jobs/early-careers
Should you have any questions about opportunities at Morrisons or our employability skills workshops please do not hesitate to get in touch with your store contact.
Many thanks
Morrisons Early Careers Team
CLUBS:
National Saturday Club (13-16 Year Olds)
In partnership with UK universities, colleges and cultural institutions, the National Saturday Club gives 13–16-year-olds the opportunity to study subjects they love for free, build their skills, grow in confidence, and discover pathways to further study and careers.

Club members attend weekly classes every Saturday, for up to 30 weeks of the academic year, at their local FE, HE or cultural institution where professional tutors create and lead programmes that encourage experimentation and introduce a wide range of activities and practices. The National Saturday Club brings everyone in the network together for shared national events – the London Visit and the Summer Show – and organises a Masterclass for each Club, offering members an array of meaningful employer encounters and cultural experiences.

With a particular focus on reaching young people from disadvantaged backgrounds and underrepresented communities, 13–16-year-olds of all abilities are encouraged to join their local Saturday Club completely free of charge.

Saturday Clubs are located nationwide and the network is growing. Visit the map to identify local provision and register via the link below.