Results 2014
GCSE Results 2014
King Edward VI Community College students celebrate new levels of success at GCSE!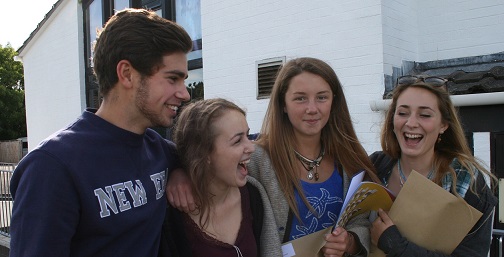 Students at King Edward VI Community College are once again celebrating an increase in the number of GCSE grades at A*-C with 72.6% of all GCSEs graded at the 'good' pass benchmark of A*-C.
Overall, King Edward VI Community College students sat nearly 2500 GCSEs this year with one in five graded at the highest level of A* or A. Chemistry, Physics, English Literature, Drama and Media all had more than 25% of their students achieve these top grades. Particular mention must go to our Biology students, of whom a staggering 41% achieved either an A or A* grade.
Success has not only come at the highest grades with 99% of all GCSE entries as pass marks - something which, as a fully comprehensive community college, we are immensely proud of.
24 subjects can boast a 100% pass rate, with the vast majority of subjects returning results well in excess of national standards.
English results at the college have risen to 79% of students achieving an A*-C grade pass in their English or English Language qualification and 82% of students achieving this benchmark for English Literature.
The ongoing development of humanities at the college has also seen real results - Geography students and staff have worked exceptionally hard to achieve some astounding outcomes and are one of the most improved subject areas at the college.
Building on success at A Level last week, 97% of Art and Design students achieved A*-C grades, showing that the college has equal rigour in academic and creative disciplines.
15 students achieved 8 or more A* and A grades at GCSE. Particular congratulations go to Katie Adams, Katie Ashmore-Marsh, Eileen Garry, Ella Green, Katie Medd, Isobella Perks and Hannah Souch who achieved 10 or 11 A* and A grade passes, enabling them to access fantastic opportunities having built their foundations at GCSE.
The College would like to congratulate all students on their results and wish them the best for the future.
AS and A Level Results 2014
Kennicott students celebrate record breaking success at the highest grades!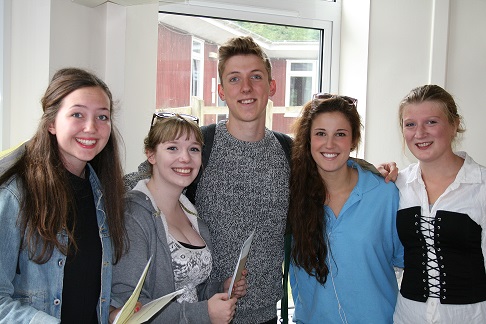 Students from Kennicott Sixth Form Centre at King Edward VI Community College are celebrating their best ever A level results at the highest grades, as well as a string of outstanding results across a range of other courses.
Overall, Kennicott students were entered for 318 A levels with an astonishing 52% of all A levels awarded at the top grades: A*, A and B! At AS level, students have achieved over 500 AS levels between them, with 43% of them at the highest grades, compared with a national A-B pass rate of just 35%!
At A level, 23 subjects can boast a 100% pass rate, with the vast majority of subjects, at all levels, returning results well in excess of national standards.
Art and Design students have continued the College's impressive record of both creative and academic success. At A level, in Photography and Art, 67% of students achieved results at the highest possible levels while, in Textiles, an incredible 80% of students accomplished the same. At AS level, 87% of Photography students are celebrating either A or B grades.
In Languages, students have excelled, with 80% of Spanish A level grades at A*-B, and 67% of German A level grades. At AS level, 84% of students achieved the very highest grades in both French and Spanish.
Other notable subject successes include in Social Sciences, where 50% of Sociology students, 55% of Psychology students, 80% of Law students and 50% of Politics students proving that they are amongst the very best in the country.
History students have accomplished their best ever performance, with 58% of students achieving A*, A and B grades. However, perhaps the most impressive achievements this year are in English. Of the 38 A level students, 66% achieved at least grades A*-B; AS level English students have excelled with an unprecedented 53% achieving a Grade A!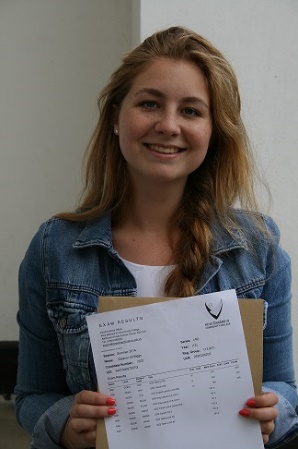 It is difficult to single out individual outstanding performances in a year when so many Kennicott students have achieved so highly. At A level, Elle Biggs, Becky Cleave, Natasha Gue, Katie Oldham, Hollie Moore and Gemma Upton have achieved at least three A* or A grades each. We are particularly delighted that Elle is off to Oxford to study English Literature.
At AS level, Katie Blee, Naomi Chapman, Phoebe Clark, Grace Davies, Alice Georgi, Matthew Hartridge, Ella Porter, Amy Robinson, Ciaran Trimming and Pascale Walker are celebrating at least three A grades apiece, and looking forward to progressing onto even further success at A level at Kennicott.
Kennicott students studying in partnership with DAPA (Devon Academy of Performing Arts) and with The Cloche (Training for the Arts Ltd) receive a standing ovation for yet another breath-taking performance!
Seven BTEC Dance students – Harriet Eeeles, Nicole Haizelden, Tory Hoare, Tamsin Moreing, Molly Southall, Meghan Thompson and Bethany Thomson have achieved a triple Distinction* and leave us to join some of the very best dance colleges in the country. At DAPA, Kaia Bartholomew, Noah Tobias and Tamsin Lynes can boast a triple Distinction* in Musical Theatre. Both Kaia and Tamsin have also achieved Distinction* in BTEC Music, with Tamsin also taking away a B in A level English for good measure! Steph Bundy, Oscar Lindsey Turner, Grace Bouchard, Liam Wearne-Fisher and Leah Wellington achieved double Distinction* in Performing Arts and Productions Arts.
The College would like to congratulate all students.