Careers Events and Opportunities
Welcome to our careers events page, which details current opportunities available to our students:
Rolls-Royce pioneers cutting-edge technologies that deliver the cleanest, safest and most competitive solutions to meet our planet's vital power needs. Whether we're building the world's most efficient large aero-engine or championing electrification, we're all about innovation. A career with us means creating cleaner, faster, more competitive power. It means looking to the future, and shaping the world we live in.

As an apprentice, you'll have every opportunity to get involved in our ground-breaking work. We believe that diverse ways of thinking make for ever better ideas. That's why we give people with bold, curious minds the chance to be themselves. With us, you'll have all the support and training you need to bring your fresh perspectives to pioneering the power that matters.

Non-Destructive Testing (NDT) Degree Apprenticeships

As a defining part of our heritage, our technical excellence is something we're immensely proud of. Join us as a Non-Destructive Testing (NDT) Engineer in Submarines, and you'll feel that sense of pride too. NDT is used across a wide variety of sectors and relies heavily upon Physics and Maths, and is vital to us in inspecting components across every area of our businesses. Your apprenticeship will give you exposure across our business as you learn how to use NDT to find surface and internal defects in a variety of materials.
Materials Laboratory Degree Apprenticeships

This is your chance to work with world-class scientists and engineers and gain an understanding of different materials and their uses, failure investigation studies, research and development, process control and laboratory-related improvement activities.
Engineering Degree Apprenticeships

We recruit Engineering Degree Apprentices into a number of different areas. In all of them, you'll enjoy on-and-off-the-job training and outstanding opportunities to progress. Once you've completed your apprenticeship, you'll have a good idea of where your interests lie. For example, in the future you could be a Design Engineer, Stress Engineer, Development Engineer, a Service Engineer or a Lifecycle Engineer.

Radiation Physics Clinical Technologist Apprenticeship
Do you have an interest in the application of science and technology in healthcare? Do you possess good interpersonal and analytical skills? Would you like to pursue a well-paid career with good prospects helping the NHS serve patients on a daily basis? Want to earn a salary while you train? If so, this could be the position for you.
We're pleased to announce this rare and exciting opportunity to join our friendly, dedicated Clinical & Radiation Physics team as an apprentice Clinical Technologist.
This is an exciting time to join the team due to a recent restructure and the development of collaborative working across the South, East and North Devon Medical Physics network (SEND Medical Physics), which includes the Torbay and South Devon NHS Foundation Trust and North Devon Healthcare NHS Trust. The position will involve work across all three Trusts, and the post holder may be placed in any of the three main locations.
Clinical & Radiation Physics provides scientific support services to users of ionising radiations including X-Ray, CT, and Nuclear Medicine, as well as non-ionising radiations such as UV and Ultrasound. Alongside your studies you could be working on testing x-ray equipment performance one day, carrying out a radiation safety assessment the next day and calibrating equipment used for UV treatments on another.
Applicants should be numerate, computer literate and must meet the entry requirements for the degree course at the University of West of England in Bristol. This currently requires 128 UCAS points from A level (ABB, including at least one relevant science from Biology, Chemistry, Physics, Maths or Physiology), + Maths and English GCSE Grade C (4) or equivalent'. Alternative qualifications may accepted, subject to the UWE admissions process. Applications may be considered from candidates with a lower UCAS points score who can demonstrate a particular aptitude for the role.
You will undertake a fully funded, professionally accredited BSc (Hons) Degree qualification in Healthcare Science (Medical Physics Technology) specialising in Radiation Physics. Upon successful completion of the apprenticeship you will be eligible for entry on the professional register for clinical technologists (RCT). There may be an opportunity to join the department permanently at the end of your training but in any case, your new-found skills as a clinical technologist will be in high demand as there is a national shortage of trained staff. This post will be commencing September 2021.
Salary will be paid at agenda for change band 2 in year 1, band 3 in year 2 and band 4 in year 3.
For more information on a career as a medical physics technologist see Clinical or medical technology in medical physics | Health Careers
FOR FULL DETAILS, SEE THE ROYAL AIR FORCE EVENTS LEAFLET ATTACHED AT THE BOTTOM OF THE PAGE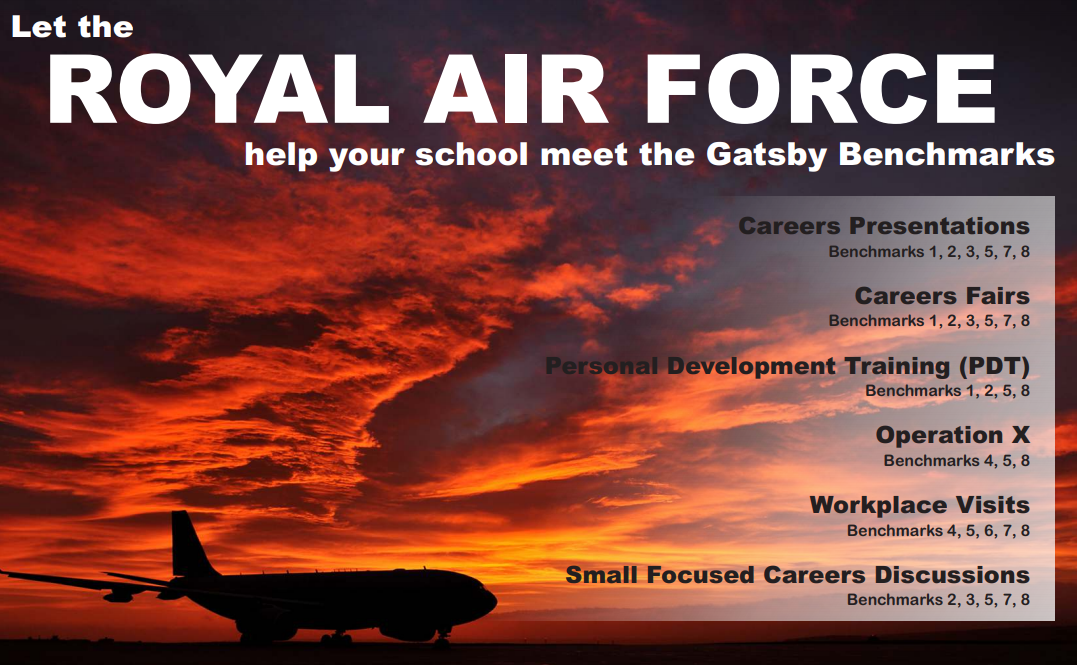 There's a huge variety of roles in the Army available to students that have an interest in medicine, biology, chemistry and physics. From a Biomedical Scientist to an Ammunition Technician, an Environmental Health Practitioner to Pharmacy Technician, could the Army be the ideal employer for your students?

In many of these roles, gaining a fully funded degree is part of the specialist training. Why not forward this on to a student who may be interested so they can find out more?
EXPLORE THE WORLD OF WORK WITH A SCIENCE CAREER IN THE ARMY
Our role-specific videos are a great way to introduce the themes of employability and the world of work into your science lessons, giving students an insight into what is involved in each role and the skills they'll need to succeed. Click below to watch our full suite of videos.
"At the moment, my role is similar to working in a private vet's practice. It's very clinical and hands on, with animals always coming in. In my next posting I'll be working in a preventative role, training dog handlers in caring for the dogs and doing first aid. It will be a different focus and tempo!"
Army Veterinary Nurse
APPRENTICESHIPS:
Google Apprenticeships
Google is promoting three UK apprenticeship programmes:

Digital Marketing Level 3 Apprenticeship
Apprentices will join a Sales or Marketing team at Google, and help define, design, and implement campaigns across a variety of platforms, gaining exposure to different Google products, and leveraging the power of Google data to help companies to solve their business challenges.

Infrastructure Technology Level 3 Apprenticeship
IT apprentices at Google gain exposure to roles such as IT Support and AV Engineering. You'll have the chance to pick up new skills, from troubleshooting across multiple platforms, data gathering and analysis, remote infrastructure, IT security and more, while learning how to apply your knowledge to solve real life problems.

Software Development Level 4 Apprenticeship
This programme aims to provide the skills you need to become a software development professional. You'll work alongside teams of Googlers, solving real problems and gaining exposure to different roles across the company, including coding, development, testing and project management.

Apply before 1st April via the website below, and feel free to visit the Student Blog featuring a former Digital Marketing Apprentice.
We are recruiting for our next generation of Degree Apprentices and wanted to share with you a brochure that highlights the great opportunities we have on offer. Please feel free to onward share this to any students that you feel may be interested, they may also wish to check out our Early Careers opportunities on our website…
https://www.morrisons.jobs/early-careers
Should you have any questions about opportunities at Morrisons or our employability skills workshops please do not hesitate to get in touch with your store contact.
Many thanks
Morrisons Early Careers Team
CLUBS:
National Saturday Club (13-16 Year Olds)
In partnership with UK universities, colleges and cultural institutions, the National Saturday Club gives 13–16-year-olds the opportunity to study subjects they love for free, build their skills, grow in confidence, and discover pathways to further study and careers.

Club members attend weekly classes every Saturday, for up to 30 weeks of the academic year, at their local FE, HE or cultural institution where professional tutors create and lead programmes that encourage experimentation and introduce a wide range of activities and practices. The National Saturday Club brings everyone in the network together for shared national events – the London Visit and the Summer Show – and organises a Masterclass for each Club, offering members an array of meaningful employer encounters and cultural experiences.

With a particular focus on reaching young people from disadvantaged backgrounds and underrepresented communities, 13–16-year-olds of all abilities are encouraged to join their local Saturday Club completely free of charge.

Saturday Clubs are located nationwide and the network is growing. Visit the map to identify local provision and register via the link below.