English and Media
English
About Us
Our Commitment
We are a Department which believe in the vitality and creativity of the English language. We believe every child should have the opportunity to discover and explore the richness of the world of Literature and to develop a lifelong enjoyment of reading for pleasure. We are also very keen that, in a more practical way, our students learn to communicate in this modern world; to navigate the many forms of communication. We aim to help each and every student take control of their language, to be able to express themselves and to give them the tools to interpret the world around them.

To this end our schemes of work are interactive and engaging, focusing on stimuli as diverse as animal rights and the gothic genre. We teach about global diversity and how and why the English Language has changed through time. Students learn and practise the necessary skills of reading for meaning, articulating their ideas, writing in a variety of styles and speaking and listening individually and in group work. There is also an element of drama. We believe that it is vital for students to learn that English skills are transferable and necessary in all subjects and we therefore link students' learning in class to other curricular areas as often as possible.
Gifted and Talented students in English are identified early by their teachers and invited to join in a variety of clubs and activities, including a writer's workshop and a poetry master class.
Students who struggle in English are extracted into small intervention classes to help them improve their general literacy and catch up with their peers. We also have dyslexia specialists who work with students on a one to one programme of strategies.
Our Expectations
We expect all our students to:
come to lessons willing to learn and contribute
be prepared for learning
look after lesson resources both inside and outside the classroom
put their best effort into their work
Home Learning
Home learning helps students extend and consolidate their learning. We will issue students with a range of tasks - some will be written, others reading based and others will ask them to think more deeply about issues raised in class
All home learning tasks, resources and web links are available on Class Charts.
Enrichment
Enrichment opportunities within English are ever-changing. We regularly take part in the Readathon event, during which pupils read for a day and raise money for Charity at the same time. We host visiting authors in real life and via live web links. We take part in debating competitions such as the Rotary 'Speak out!' competition and others. We also run trips to the theatre, particularly at Key Stage 5, in order that the pupils can see the words they have studied so closely brought to life in the way they were meant to be seen
We also run a school wide programme called Accelerated Reader. A forensic reading programme, it aims to improve the reading ages of students without them even noticing! It is designed to ensure student read books at exactly the right level for them, but their choice is wide and therefore they are in control of the subject – making reading a much more enjoyable experience. Our Year 7 and 8 pupils engage in this reading for pleasure for half an hour each day. The results can be seen in the huge improvements our students have made in their reading ages and more anecdotally in the feedback received from parents and student about hoe the reading habit has become ingrained and is now a part of their life.
Our Achievements
Our students are very successful at GCSE with nearly 80% of students attaining A*-C and almost 20% of those at the very highest levels. Our success in achieving our aim of instilling a love of Literature in our pupils can be seen in the high take up we have for English Literature and English Language and Literature at A Level. The grades achieved here (100% A* -C in Literature) reflect the amazing ability of our pupils which we nurture right from Year 7.
Media & Film Studies
About Us
Our Commitment
We like to make learning fun but also an 'eye-opening' experience. We want students to enjoy using equipment and learning how 'to make stuff', but we also want to open their eyes to how the media and film industries work and how these organisations control our lives and in some cases…our minds.
The aim of all Media and Film Studies courses is to develop students' knowledge, understanding and creative skills through the analysis and production of media texts. We offer a range of courses at Key Stage 4 and 5.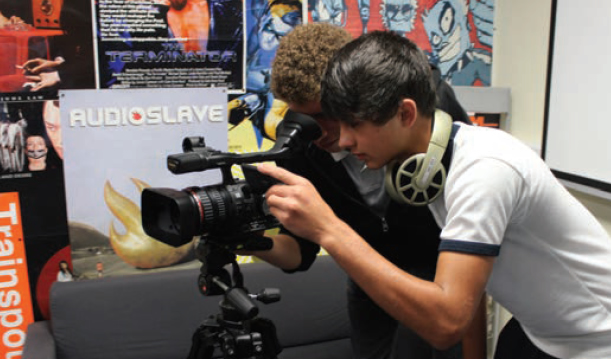 Our Expectations
We expect students to try their best. We will not compare you to others. You are an individual. You learn in different ways to others. But you must do something. As Yoda says 'Do or do not, there is no try'. Well, we don't 100% agree with that because we want you to at least try, but don't be a quitter – DO IT! You cannot quit. When it gets tough we will help carry you, but you need to put in the leg work.
Students enjoy this subject and already have a wealth of knowledge from which to draw.
We expect you to use your talent and understanding and to engage fully with all aspects of the course. Deadlines are important, so is team work and collaboration.
If you want to get the best from this subject, we expect you to give 100% at all times. This means that at certain times in the year you will be expected to take photographs or record audio or video in your own time.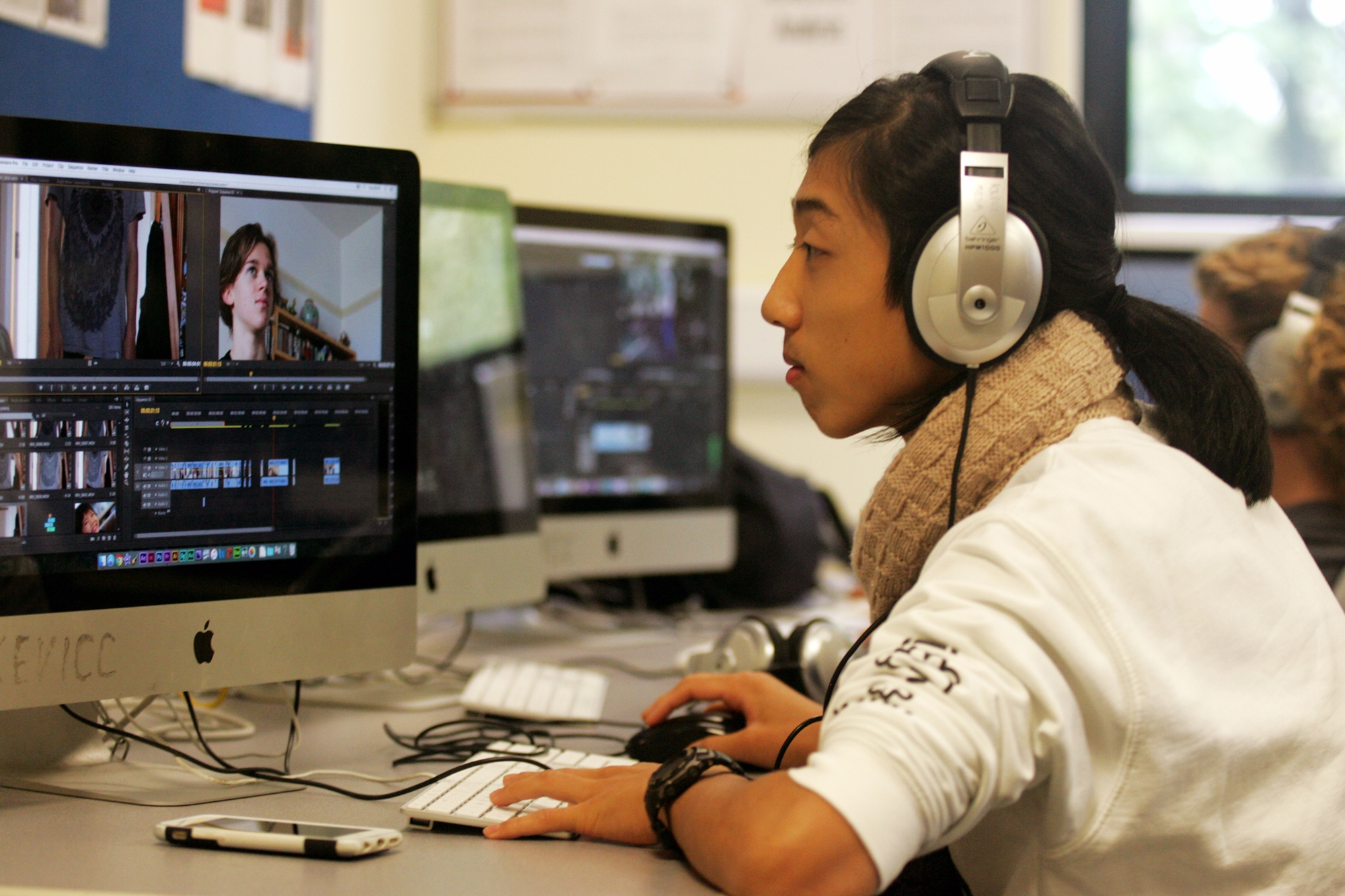 Home Learning
We do set homework. Usually this will be an essay that reflects on the topic taught in class. However, a lot of the time we'll cash all our homework chips during practical productions. That means you'll be expected to do a lot of homework over a month and half, filming and editing after school. That's because productions filmed in school look rubbish. And we want yours to be really, really good.
Enrichment & Equipment
We believe we have some good equipment for a comprehensive school. We have software packages for editing film and print that are used by professionals. We have a variety of recording equipment for all levels, GCSE to Advanced A Level. When possible, we like to arrange the KEVICC Oscars which gives prizes out for student films. We also try to take students to The Barn to watch films (when they can fit us in).
The Media and Film Studies department has purpose-built editing suites dedicated to Media and Film Studies. The editing suites are equipped with top of the range iMacs and industry standard video and print software (Final Cut Pro 7 and Photoshop) Students use Dreamweaver for webdesign and Flash/iStopmotion for animation.
The department has a range of audio/visual equipment available for student loan and students undertaking practical productions have the option to borrow these outside of college hours.
Students will learn to analyse a wide variety of texts using appropriate methodology.
They will explore key concepts of FAIR (Forms, Audience, Institution and Representation and ANGRILI (Audience, Narrative, Genre, Representation, Ideology, Language and Institution)
They will be given access to a variety of audio-visual and IT facilities in order to develop skills in media production.
In gaining these skills, students will be given the opportunity to work creatively, utilizing their knowledge and understanding in the production of media texts.
Learning Mentors
A Level students often act as assistant technicians – they've been there and done it so often can help their younger peers. The Media Staff are a bit like wise-old-Media-Jedi and they often can be seen mentoring young media-Jedis about the Emperor Murdoch and his fellow Dark Media Overlords.
Our Achievements
We're generally better than every other Media and Film Department in the known universe with our results. We're mixed ability too and we fight tooth and nail to help students of all abilities to succeed in our course. Some of our students have gone on to work for big media corporations (boo! Traitors!). Others have become freelance film makers. Our greatest achievement is getting every student who takes our subject to do the best they can do.
If you opt to study any of the media related courses on offer at Key Stage 4 and 5, you will be guaranteed high quality teaching from a dedicated team of teachers. Ours is one of the most popular subjects at KEVICC. Courses are regularly oversubscribed and the results are excellent. Students studying media courses at KEVICC achieve places at the top universities for this subject including Bournemouth, Bristol, Cardiff, London and Falmouth. Students' work has been screened at the Exeter Picture House. Students' projects have been selected for screening at the ICA in London
Two students from KEVICC were offered funding by First Light to create a film that went on to win top prize and become the exemplar film on First Light's website.