Key Stage 3
Science
Our curriculum teaches students to work scientifically through building a broad scientific knowledge and understanding, as well as experimental, investigation, analysis and evaluation skills in order to prepare them for KS4 science.
How will I be assessed?
End of module assessments and end of year assessments
Key Stage 3 Science Curriculum
Year 7
Students are introduced to KS3 science through the Activate 1 science course. This exciting course covers topics in biology (cells, tissue and organs and reproduction in plants and animals), chemistry (particles and their reactions, elements and acids and alkalis) and physics (forces, sound and light energy and space). These are supported by a full suite of digital resources and laboratory practical investigations that explore the learning.
Year 8
Students build on their knowledge obtained from year 7 the second year of the Activate programme. The biology content includes ecosystems, adaptation and health and lifestyle. This content is supported by a trip to Paignton Zoo to get input from the experts on adaptation and conservation. The chemistry topics include topics on The Earth, the Periodic Table, Separation techniques and Metals. There is a lot of practical work associated with many of those topics. In physics the students will develop their understanding of electricity, magnets, forces, energy and motion. The Year 8 programme has an emphasis on preparing learners for KS4 with many modules introducing GCSE concepts and ideas.
Year 9
Year 9 students start the GCSE programmes in Science (Combined Science or Biology, Chemistry and Physics).
Where Could It Lead? Post 14
Those with a high knowledge and understanding in both science and maths are encouraged to follow the triple science pathway, where they will earn separate GCSE's for all 3 sciences. The alternative route is a Combined Science GCSE called 'Trilogy', worth two GCSE's.
Where Could It Lead? Post 16
The sciences are very popular choices at post 16. Students can go on to study the traditional 3 sciences (Chemistry, Biology and Physics). Studying science allows learners to access a range of options to a large variety of interesting and specialised University degree courses such as Marine Biology, Animal Behaviour, Medicine and Engineering as well as being recognised as enabling subjects for non-specialised degree courses and other career options.
Enrichment Opportunities
Science is teaming up with Technology to produce a STEM course for all learners in KS3 from 2017 onwards. The department runs a weekly science club, as well as opportunities for students to join the science team for additional support and extension sessions at all Key stages. The team run a number of trips in all Key stages including activities related to Science Week, National competitions and field trips in Biology and Physics.
Our Achievements
In 2015 a team of our science students won the regionals of the Royal Society of Chemistry's 'Top of the Bench' science competition. Our enrichment programme has allowed Y7 and 8 Students to achieve Nationally recognised qualification in Science (CREST awards). The proportion of our students taking the Triple science pathway is significantly above the national average for schools and colleges like KEVICC.
Contact
Dr Stuart Ruffle - Science and Technology Faculty Leader sruffle@kingedwardvi.devon.sch.uk
Design Technology
Design &Technology is a creative and exciting subject that gives students the chance to develop new and innovative design concepts and prototypes, through exploration of new and emerging technologies, traditional materials and techniques and systems. Not only do students develop their own ideas but look at the work of designers and the potential impact of emerging technologies.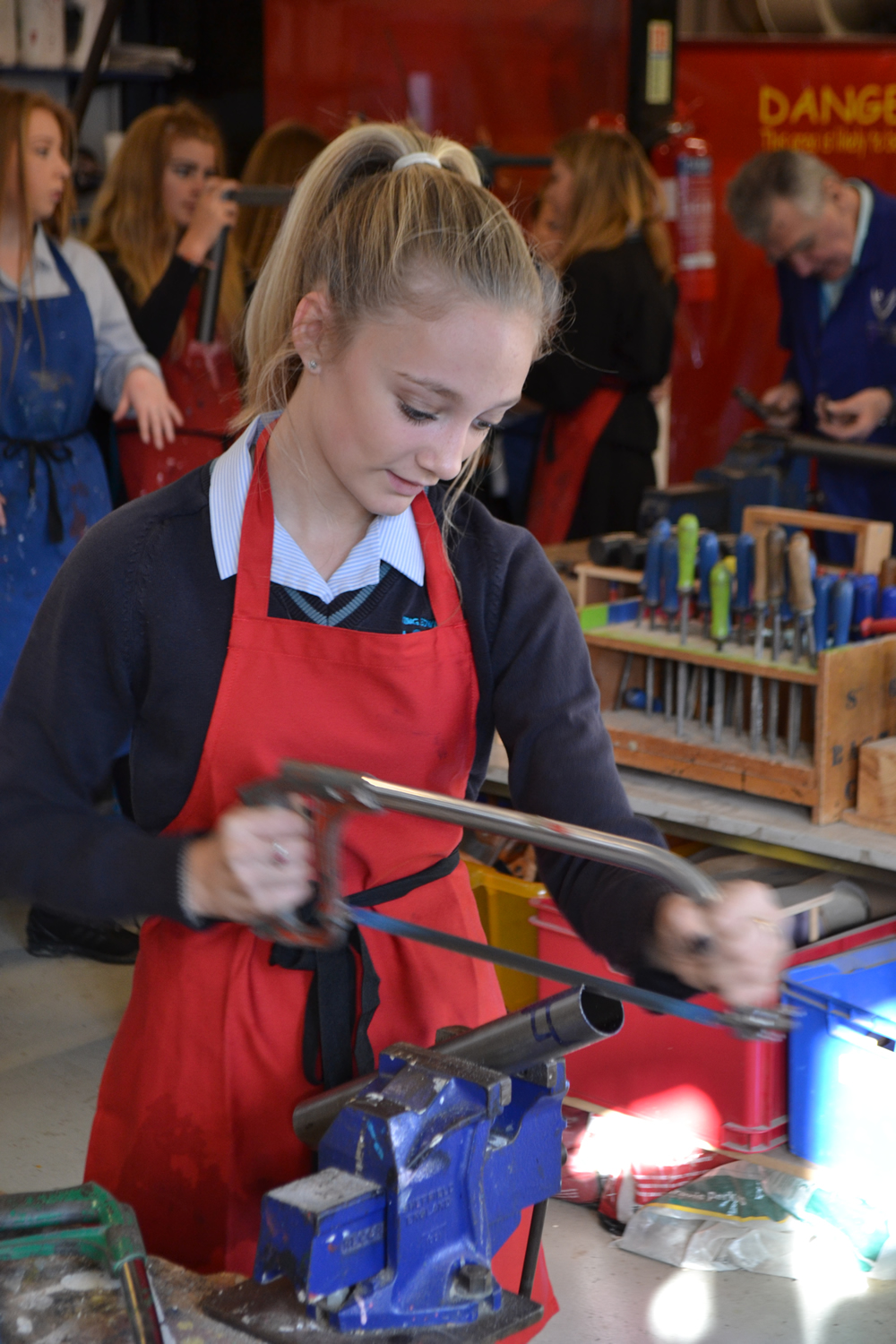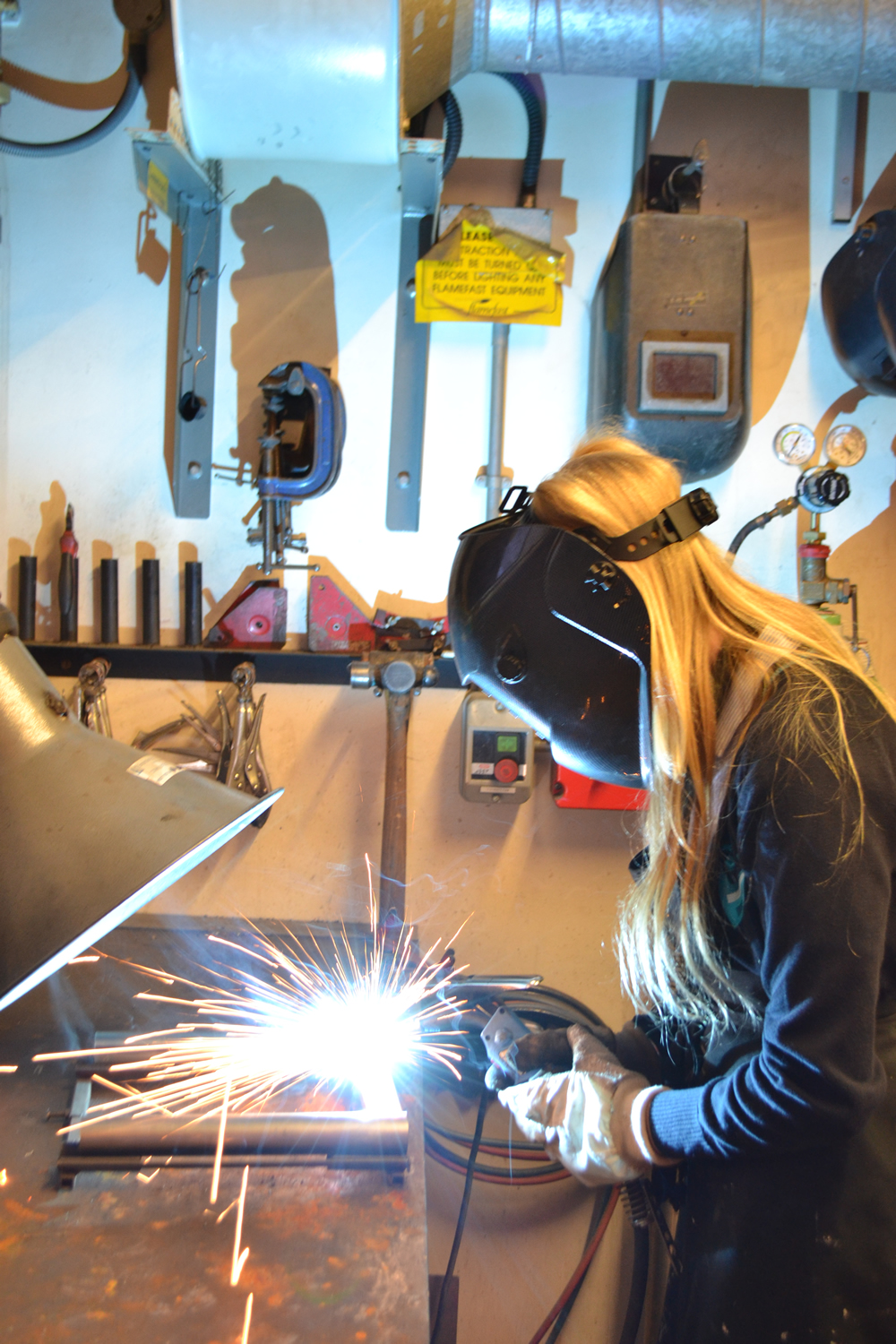 How will I be assessed?
Students are assessed by teachers, peers and themselves against design criteria for each project and progressive standards. Formative assessment is a central characteristic to help students improve their work and learning.
Key Stage 3 Technology
Year 7
In Year 7 students have the opportunity to experience a range of creative, theoretical and practical learning activities, in a variety of design specialisms. These include Product Design, Computer Aided Design & Manufacture, Food, Textiles, Electronics &Enterprise (STEM). Topics within these projects cover creativity & innovation, understanding materials & their properties, Students will develop their work in studios, multi-materials workshops, kitchens and classrooms. Learning opportunities develop thinking and problem solving skills and introduce and refine physical realisation skills. Students are expected to be innovative, determined and persistent in developing their ideas.
Year 8
In Year 8 students are asked to respond to a series of design briefs that require them to think innovatively and to apply concepts and knowledge covered. Topics include biomimicry, user centred design, market trends, the work of famous designers, iterative design principles, smart materials, understanding material properties and processes through practical work and challenges.
Year 9
Students in this year study a range of the specialisms within product Design. It allows students to refine their skills and develop them into enable them to become informed and capable young designers and innovators. Students are expected at this point to be making sophisticated high quality pieces that are supported with comprehensive folders.
Where Could It Lead? Post 14
Product Design
In Product Design at GCSE level students can tailor their Controlled Assessments to a material specialism that suits their interests, future aspirations and interests. Project focuses include, Graphics, Product Design, Textiles, CAD/CAM. Students on this course will also learn about a diverse range of materials, prototype development, manufacturing techniques, and the impact of modern and emerging technologies, moral issues, sustainability and enterprise practice. This allows students to become efficient and sensitive designers.
GCSE Food Preparation and Nutrition
GCSE Food Preparation and Nutrition is a separate course that allows you to explore the science of food, development of recipes and skills and equips students with an array of culinary techniques, as well as knowledge of nutrition, food traditions and kitchen safety.
Where Could It Lead? Post 16
'A' Level Product Design
The course has been recognised for its excellence by Falmouth University Sustainable Product Design department and now has a progression agreement. Within the 'A' level programme there is flexibility to shape projects to meet the interests and preferences of student career ambitions. The course allows students to develop highly innovative products, develop their understanding of modern design practice and techniques, specialise in material areas, train in the latest CAD/CAM techniques and develop an understanding of current design, technological and commercial trends. Many students go on to study at degree level and work in commercial design practice.
BTEC Level 3 Extended Diploma in Art and Design
This programme allows students to be assessed on the design outcomes they create throughout the whole two years of study. The learning covers a mixture of Art and Design disciplines and equates to two 'A 'level grades. During the first year students are able to explore a wide variety of creative directions. Then in the second year there is the opportunity to personalise their learning to suit their needs and preferences.
Enrichment Opportunities
Lunchtime sessions each day in D&T workshops/studios.
Competitions and design challenges.
GCSE support workshops.
Live projects and competitions.
Fab Lab between 6:00 p.m. - 8:15 p.m. every Tuesday night term time in studio and multi-materials workshop area.
Our Achievements
Large number of students continuing to Post 16, Higher education and design practice.
Only Falmouth University Partner in Devon where the students are guaranteed interviews and places from A level programme.
Numerous STEM competitions wins regionally and nationally.
Many local partnerships and projects successfully completed.
Primary Partnerships works focussing on CAD/CAM.
Partnership work with Transition Totnes, Schumacher College, Dartington Estate
A wide range of industrial and higher education links.
The only FAB lab centre in a school context in the South West.
Contact
David Irish - Raising Standards Leader