Key Stage 3
These courses introduce students to all the basic vocabulary and grammar of French and/or Spanish that is required for success at GCSE. Students are encouraged to work and learn individually, in pairs and in groups, developing a variety of skills that can be transferred amongst the different subjects, always encouraging critical analysis of the language. We also approach learning through games, music and literature in the target language, taking into consideration different learning styles. As they progress, they build and improve on their own understanding of the workings of the language and improve their confidence to communicate in the target language.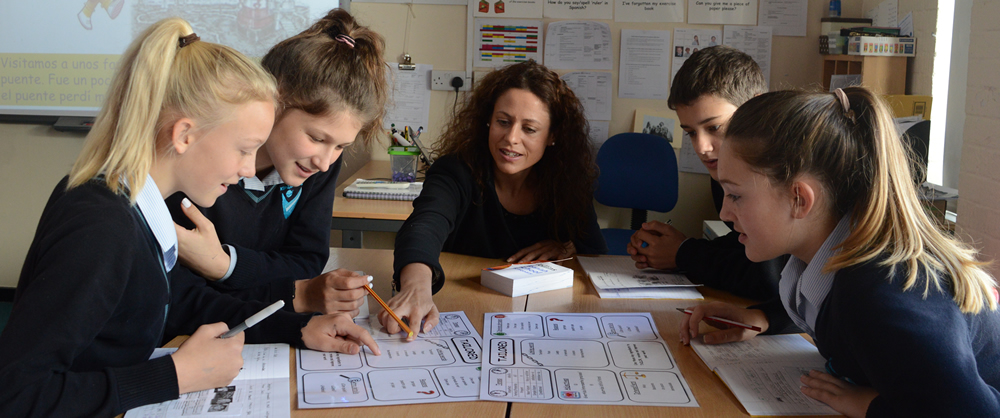 How will I be assessed?
Each year students complete assessments in the four skill areas of reading, listening, speaking and writing in order to identify any areas of strength or areas for improvement. These assessments are kept in folders so that students can build up a portfolio of their best work and we can track their progress throughout Key Stage 3. The assessments are based on the GCSE exam and gradually introduce students to the exam format and skills expected for success at GCSE level.This will enable each individual to self-assess and target their own individual needs in order to continue making outstanding progress.
Key Stage 3 Modern Foreign Languages Curriculum
Year 7
The current Year 7 had the choice to study either French or Spanish. In French, students follow the Expo 1 course and in Spanish the Mira 1 course. All students complete Language Bridge lessons at the start of Year 7 which set out the reasons why we learn languages and the best ways in which to do this, thus laying sturdy foundations on which to build throughout the rest of the year and key stage. There is regular discussion of strategies for effective language learning, with the aim of creating increasingly independent language learners. Opportunities to develop intercultural understanding are manifold and great importance is placed on this aspect of language learning.
Year 8
During this year students continue with the language they have studied in Year 7.
Our most able linguists are offered the opportunity to become dual linguists and take up a second language as an enrichment opportunity.
In French, students follow either the Studio 2 Vert or Rouge courses, depending on their ability level. In Spanish, students follow the Mira 2 Verde course.
In year 8 students have regular access to an ICT suite where they can use online resources including 'Vocab Express', Kahoot, Linguascope, Memrise, atantot extra, Google classroom and the Kevicc MFL Blog to develop their linguistic skills.
Year 9
In French students follow the Studio 3 course and in Spanish the Mira 3 course. In Year 9 students will have the chance to do some GCSE style assessment tasks. This allows them to sample what the GCSE course will be like, and prepares them for Key Stage 4.
Where Could It Lead? Post 14
At KEVICC we offer both French and Spanish to GCSE level.
Where Could It Lead? Post 16
AS/A2 level French and Spanish can be studied at Kennicott. Many of our Sixth Form students go on to study languages at University and beyond.
Enrichment Opportunities
The MFL department is a very supportive department and we are keen to encourage our students by offering a range of clubs and extra-curricular opportunities.
We offer lunchtime clubs for all ages/levels/languages, some of which are run by our native Foreign Language Assistants.
This year we are running a trip to Barcelona for MFL students and next year we are planning on offering trips to both France and Spain. We hope that these will encourage our students to use their languages and develop an understanding of the culture of the countries whose languages they are studying.
We have offered 'tandem sessions'; speaking sessions linked with Totnes School of Languages where students can meet and speak to native speakers of their own age. We have also organised MFL trips to Plymouth and Exeter Universities, trips to German markets and offered Spanish/French cookery sessions and cinema evenings to our students. We currently have penpal links for KS3 students with both French and Spanish schools.
Able linguists are offered the opportunity to complete an extra MFL GCSE by attending lunchtime sessions and some students have even attained 3 GCSE qualifications in MFL in recent years.
Our KS3 students also have the opportunity to enter national competitions in the Vocab Express Challenge and the MFL Pop Music Video Competition.
Our Achievements
Our GCSE results are improving year on year, with many students attaining A/A* last year.We regularly achieve outstanding AS/A2 results in MFL.
Contact
Mrs D Burman - Faculty Leader of Modern Foreign Languages